**Do you want to update your membership
information click Here  **
Please look at the online Calendar for future events and here for SNEC Events online
General Announcement
Please remember, there is to be no eating or drinking food in the classrooms. You may bring your children to the fellowship hall for their snacks and eating. There will be a tables set up for this purpose. 
The Game Night at the Zegarra's house tonight Dec 2, at 7:00pm  has been CANCELLED.
Friday, December 8, 2023 from 10:00 - 11:00am,  there will a Public Viewing of Rosylin Bingham (Doroth Bingham"s Mother) at Dorchester Berea Seventh Day Adventist Church. 108 Seaver Street, Dorchester, MA . Followed by Funeral Service from 11:00am - 12:00pm. 
Friday Dec 8: We will be having our Annual Holiday Concert from 7-8:15pm here in our church, please invite a friend and join us.
Saturday Dec 9:  We will be having our Church Business meeting, devotion at 4:30 p.m and meeting at 5:00 p.m. All members are encouraged to be in attendance. 
Upcoming Events
The South Shore Regional Adventist School Board is asking the Braintree SDA Church to join together for the next few months and pray for the student or students that God will send to our school.  We have an empty Desk in a foyer on your right as you walk in to the Sanctuary. God has great plans for our school! We are ready and willing to accept His bounty, but we are asking that as Christian community join us and be unified in this simple prayer.

Dec 16 - This is will be a special Sabbath Day for our Youth and Young Adults here in our church. The theme for the day will be " Running This Race by God's Grace".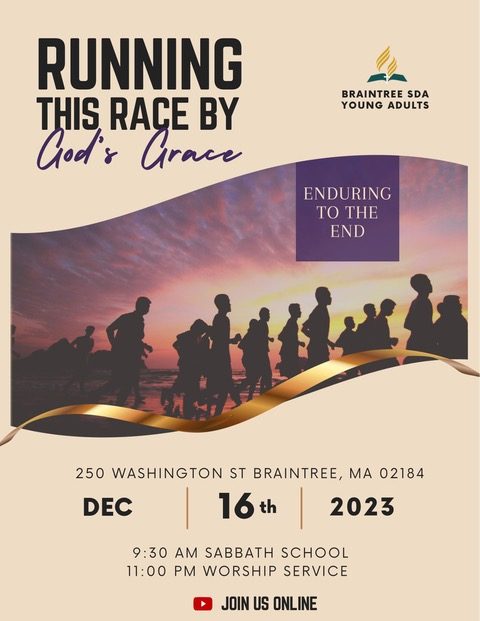 -Dec 23 Communion Sabbath
-Sunday 12/31 End of the year church service from 6-8pm follow up with refreshment
Church Ministry Updates and Needs
Braintree SDA Text Service
Would you like to receive timely updates from the Pastor, Departments or the Church in general?
Click the link below! to sign up to receive your notification via SMS.
https://braintreema.adventistchurch.org/texting-services-sign-up
Just add you number and your name, then submit.
Prayer Line: 
Join us for Morning Prayer, Monday - Friday 5:30 a.m. - 6:00 a.m. using the call service #712-775-8968, meeting code 466242.
Weekly Church Meetings
Our group Prayer Meeting is on Wednesday evening via the Church Zoom beginning at 7:00 p.m. 
Meeting id: 988 573 545 - Passcode: 250250
--If you want to share a prayer request , praise and thanks, go on the Prayer Ministry page by filling out an online form on bottom of that page or click Here
You may also send an email, call or text message Sis. Princess, the Elders or the Pastor.
Construction Renovation Project Loan
Please remember the Braintree Construction Renovation Project Loan. We need your support to pay down this church loan asap to avoid paying thousands dollars in interest needlessly. All current donations given to the CRP fund will be used to pay for this loan. 
Church Budget
Prayerfully consider supporting the Braintree Church through giving to the Church Budget. From this fund, all the local ministries and expenses are supported. When we all give consistently, then the church can make ministry plans. Please pray about your role in this important part of church mission.
Pathfinders
Club meetings will  will be 1st and 3rd Sabbath every month at 4:00 p.m., please contact the Director Kae Cumberbatch
Food Pantry
Please contact Kae or Cavour Cumberbatch if you would like to volunteer on Monday or Tuesdays 4-7 p.m.
Please prayerfully consider giving to the Food Pantry Ministry. As supply of food is decreasing, the cost of supplementing with purchased food is increasing from the Food Pantry Ministry budget. You can designate your donation on the tithe/offering as Food Pantry or www.adventistgiving.org 'Food Pantry' entry.
Also, the truck that is being used for Deliveries of food to the Braintree Church had a repair. Please see Kae if you are interested in giving to offset the cost to the Food Pantry budget.
Volunteers!
Adventist Screening Verification
For all our church volunteers please sign in to Check Your Status or click below the image below.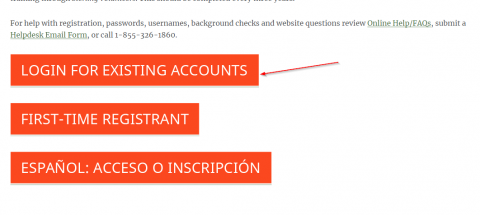 If your status is Past Due or Approaching, please complete the training and the background screening. If you have any questions, please reach out to our ASV Coordinator, Myrlande.
Membership
**Do you want to update your membership
information click Here  **
Kiddies Room
Parents. The lower classroom, (left of stairs at rear of church building) is available for parents with small children during the Divine Worship Service. A TV has been setup in this classroom so parents can follow the service while supervising their children. Please remember this is parent supervised. No attended children in room.
*Please remember, there is to be no eating or drinking food in the classrooms. You may bring your children to the fellowship hall for their snacks and eating. There will be a tables set up for this purpose.*
Sabbath School Locations
Upper Floor Classroom
  - Junior/Teens
Main Floor
  - Adults
  - Primary - the room off the lobby
Lower Level Classroom
  -Beginners
Beginners Sabbath School Class is for ages 0-5 and at begins at 10:30 a.m. We ask that at least one parent be present to help. Beginners in lower classroom left of stairs at rear of church building.
Youth (AY)
Please contact Fabiola for information or see the AY upcoming events page